RV camping is one of the best ways to kick back and enjoy a relaxing vacation while connecting with nature. It is a more comfortable experience than tent camping, but it does not come with the same luxuries as staying in more traditional accommodations, such as a cabin or bed and breakfast.
If you are new to RV's, it is important to learn how to operate them safely, connect the hookups, dump the tanks, prepare for emergencies, and pack efficiently. Aside from the basics, it can be helpful to learn tips to make your RV experience more enjoyable. After all, staying in a tiny house on wheels can be a big adjustment for some travelers.
However, if you know how to make the most of your RV camping trips, they can be just as gratifying as other types of vacations, if not more so. Plus, you can save money on trip expenses. In this post, we will reveal 7 of our best secrets for making your RV trips feel like a luxurious getaway!
7 Secrets to RV Camping
1. Add plenty of lighting
RVs often lack sufficient lighting both inside and out, which is inconvenient when you are parked in a rural park or forest with no street lights. Even in the daylight, it can be difficult to navigate through the tiny space in your RV without bumping into anything, especially if you are not familiar with the layout.
First, replace the dim lights with brighter bulbs for better overhead visibility. Next, add extra lights throughout the interior, such as LED light strips under the cabinets and motion sensor lights in tight spaces and closets.
If you spend time outside your RV at nighttime, you will also need exterior lights. This could be floodlights at the entrance, string lights, or lanterns that you can easily carry with you around the campground. Having outdoor lighting will also provide an extra sense of security, deterring unwanted visitors from your campsite.
2. Upgrade your showerhead
Most RVs have poor water pressure, which can ruin your showers. You may not think this matters, but warm showers are the best way to unwind after a day of traveling or exploring the outdoors. Investing in a nice, high-pressure shower head can elevate your entire camping experience, and help you feel refreshed for each new day.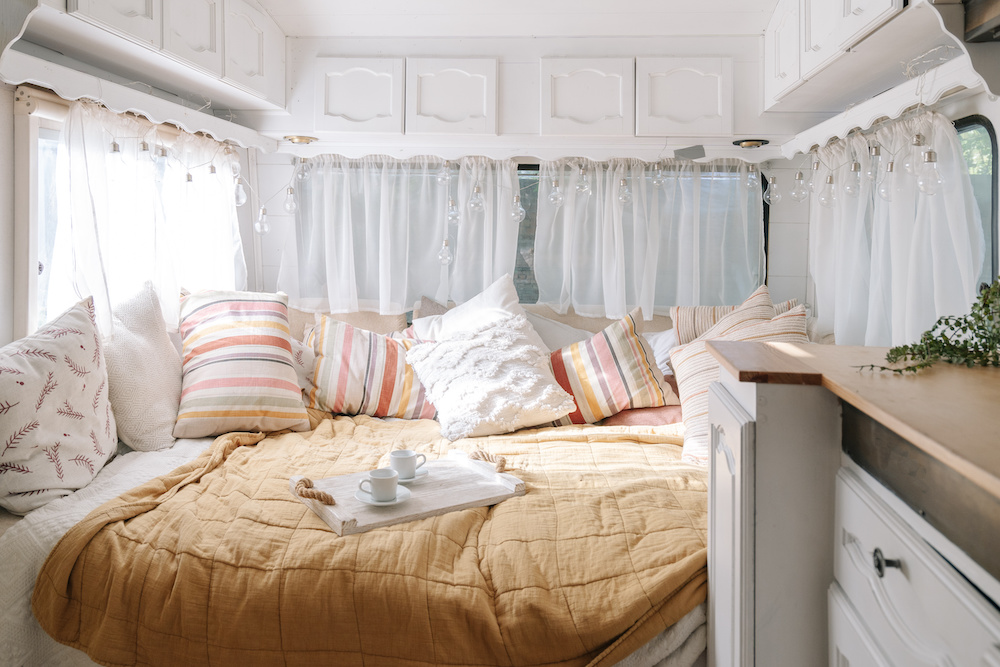 3. Up the cozy factor
Some people may find RVs uncomfortable due to the lack of space for lounging and sleeping. However, you can improve this with a few cozy touches. Put up curtains, window shades, and wall hangings for more privacy and decoration. Add throw pillows and extra blankets in the seating areas, and use area rugs to add warmth and style.
4. Keep a dry-erase board
Whenever you take a trip away from home, you should familiarize yourself with the area and take note of important information that you may need during an emergency. Keep a dry-erase board in your RV where you write down the name of the campground, address, site numbers, and any phone numbers you might need during your stay.
You can also write down check-in and check-out times, chores, or grocery items. Having all this information front and center will be extremely helpful, especially when you need it in a hurry.
5. Keep bugs away
Nothing is quite as annoying as being bombarded by bugs on your vacation. Since you go RV camping out in nature, bugs can be even more of a nuisance than usual. First, use a 50/50 solution of Pinesol & water to wipe down your counter, tables, and awnings. This will help keep flies away. Then, use steel wool to block off small entrances to the RV so that rodents & pests cannot get in.
6. Use collapsible storage
Instead of using solid containers for your trash, dirty clothes, and linens, bring collapsible laundry baskets that fold flat when they are not in use. You can easily put liners inside them to keep them clean for each use. When you are ready to travel, just dispose of your trash, collapse the baskets, and tuck them away so they don't take up extra space.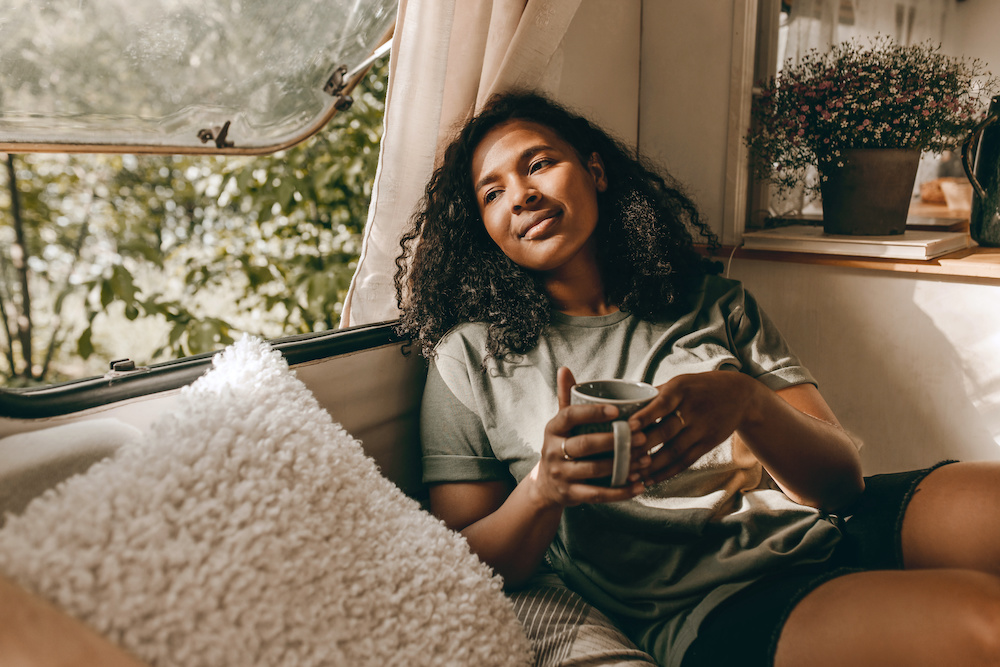 7. Completely disconnect
One of the best things about RV camping is the chance to totally relax, connect with nature, and enjoy quality time with your fellow campers. Try not to take work with you, and stay off your mobile devices as much as possible.
In fact, we suggest completely disconnecting from technology, and keeping your phone charged for emergencies only. Besides, if you are out on a trail or in a rural area, you probably won't have good service. Instead, use walkie-talkies to communicate with the others in your group.
Summary
There are so many reasons to love RV camping, even if it takes a little getting used to. Use these 7 secrets to make your experience easier and more enjoyable; then, you can focus on relaxation and the thrill of new adventures.
For more RV tips and camping ideas, check out our other blog posts! If you are planning an RV trip to the beach, we highly recommend Alabama's beautiful gulf coast. Hwy 98 RV Park is in a quiet, central location with easy access to the ocean and all our favorite outdoor activities.
Visit our website or call us at (478) 954-5715 for info on pricing and booking!