Living in an RV full-time can be extremely rewarding. You will see incredible sights and trade your material things for memorable experiences. However, it is a big change from living in a house or apartment. If you are ready to sell your house and take to the open road, you need to be well-prepared.
You may be used to having plenty of space for relaxing and entertaining. You may also enjoy modern luxuries and a wealth of furniture, decor, clothes, and gadgets. You probably have a daily routine that feels comfortable and safe. All of this changes when you take on full-time RV life, and you will need a few more handy skills, too.
In this post, we will discuss four tips on preparing for full-time RV life. Afterward, you can begin your new journey with confidence and enjoy every wonderful thing RV life has to offer!
How to Prepare for Full-Time RV Life
  

1.  Downsize your belongings
One of the biggest differences between living in a house and living in an RV is the storage space. Downsizing can be a difficult adjustment, especially if you are a bit of a shopaholic.
 Start by making a list of things you cannot part with. Basic necessities, emergency items, and important family memorabilia might be on this list. Then, determine how much extra space you will have for less important items.
 Try to pare down your clothes and shoes into a capsule wardrobe that is suitable for all occasions. Go through each room and closet in your home and pull out anything you don't use anymore. Reduce your collections as much as possible, as you will not have room for dozens of books, purses, or fine china.
 When you are ready to get rid of the stuff you're not keeping, start by selling your big-ticket items to recoup their value. Then, you can host a yard sale for the rest. For anything you don't sell, consider donating it or offering it to a friend for free.
If you have must–keep items that just won't fit in the RV, you may have to lease a storage unit, or you can ask friends or family if they would be willing to keep a few things for you.
2.  Simplify your lifestyle
Another big difference in full-time RV living is the lack of modern luxuries that make your life easier or more fun. For example, you might not have access to strong Wi-Fi at every campsite. You may have to give up nice features like walk-in showers and huge closets. Smaller RVs may not have room for a dishwasher, clothes washer, or microwave.
Before you make your move to RV life, practice your day-to-day activities without some of the features you usually enjoy in your home. Try to appreciate the opportunity to change your habits now so that you can adjust more easily when the time comes.
Even though you will sacrifice some of the luxuries you are used to, living in an RV can help you lead a simpler lifestyle that is ultimately more rewarding than a glamorous one.
3.  Let go of routine
If you live in a stationary home most of the time, you have probably developed a routine. Following a similar routine, each day can make life feel predictable, comfortable, and safe. However, living in an RV is all about getting out of your comfort zone.
Life on the road can bring uncertainty as you travel from place to place. Your surroundings are constantly changing, and your home is wherever you park the RV. This means that you cannot always rely on your plans, and you never know what each day might bring.
You can prepare for this aspect of RV life by being more spontaneous, going to new places, and trying new experiences. The more you switch up your routine, the more confident you will be in new situations.
4.  Learn some handy skills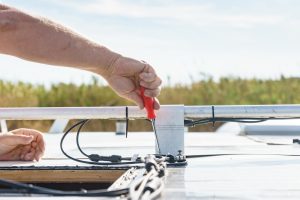 Lastly, you will need to learn a few handy skills before embarking in your new home on wheels. Living in an RV comes with the occasional flat tire, so you should study up on basic RV repairs and maintenance. You may be able to call a local mechanic for most issues, but there will likely be times when finding help is not possible.
You should know how to do maintenance items like checking your filters, fluids, and batteries and cleaning your tanks. You should also be able to handle some repairs, such as fixing leaks, changing tires, and basic plumbing. Having these skills will save you money and prevent stress when an issue arises at an inconvenient time or place.
Learn More About RV Life
If you love learning tips about RV living and camping, check out the blog on our website, www.hwy98rvpark.com. You will find plenty of helpful tricks to make your RV experience more enjoyable. We also share fun ways to enjoy Alabama's beautiful Gulf Coast when you visit Hwy 98 RV Park.
If you would like to learn more about our park or book your next getaway, you can call us at (478) 954-5715 or make a request online. We look forward to seeing you on your next adventure!